Is your house feeling dreary and in need of a refreshing makeover? Coastal-inspired lighting options might be just what you need to spruce up your home's interior.
The suitable lamps can transform any room, adding lovely accents and providing essential functionality.
By having well-designed coastal lamps in your home, you can create an inviting and cozy space that looks good and feels good too.
So, how do you choose a suitable coastal lamp? With so many options, it can be tough to decide where to start.
However, don't worry – with our help, you can select the perfect lamp for your home.
Nothing is more quintessentially "coastal" than the ocean. When choosing a suitable coastal lamp, one of the most critical factors is finding something that conjures the sea.
Here are five popular coastal lamp designs to get you started:
---
1. Rustic Seaside Lamp
The rustic seaside lamp is perfect for bringing a bit of the beach into your home. This lamp usually features a base made from driftwood, rope, or other seaside items like starfish or shells.
Typically, the shade is light, making the illumination gentle and inviting. These lamps are highly-versatile and can match other coastal-inspired themes such as Cape Cod or Mediterranean.
If you want to create a vintage-inspired theme with a rustic seaside lamp, try using a burlap shade.
It provides a "jute" look that perfectly connects seafaring and rustic goodness. Add coastal-themed pillows, a neutral rug, and a few beachy accents, and you're well on your way to a cozy and inviting living space.
2. Nautical Lantern Lamp
The nautical lantern lamp is another favorite. With its antique-style brass or iron base and decorative glass, this lamp design is perfect for creating an old-world vibe in your home.
Pairing this style with a navy blue lamp shade will give you the perfect oceanic statement piece while perfectly tying together the nautical look.
You can decorate the walls with vintage-inspired canvas posters and complete the theme with driftwood decor and stripe-like throw pillows.
3. Seashell Table Lamp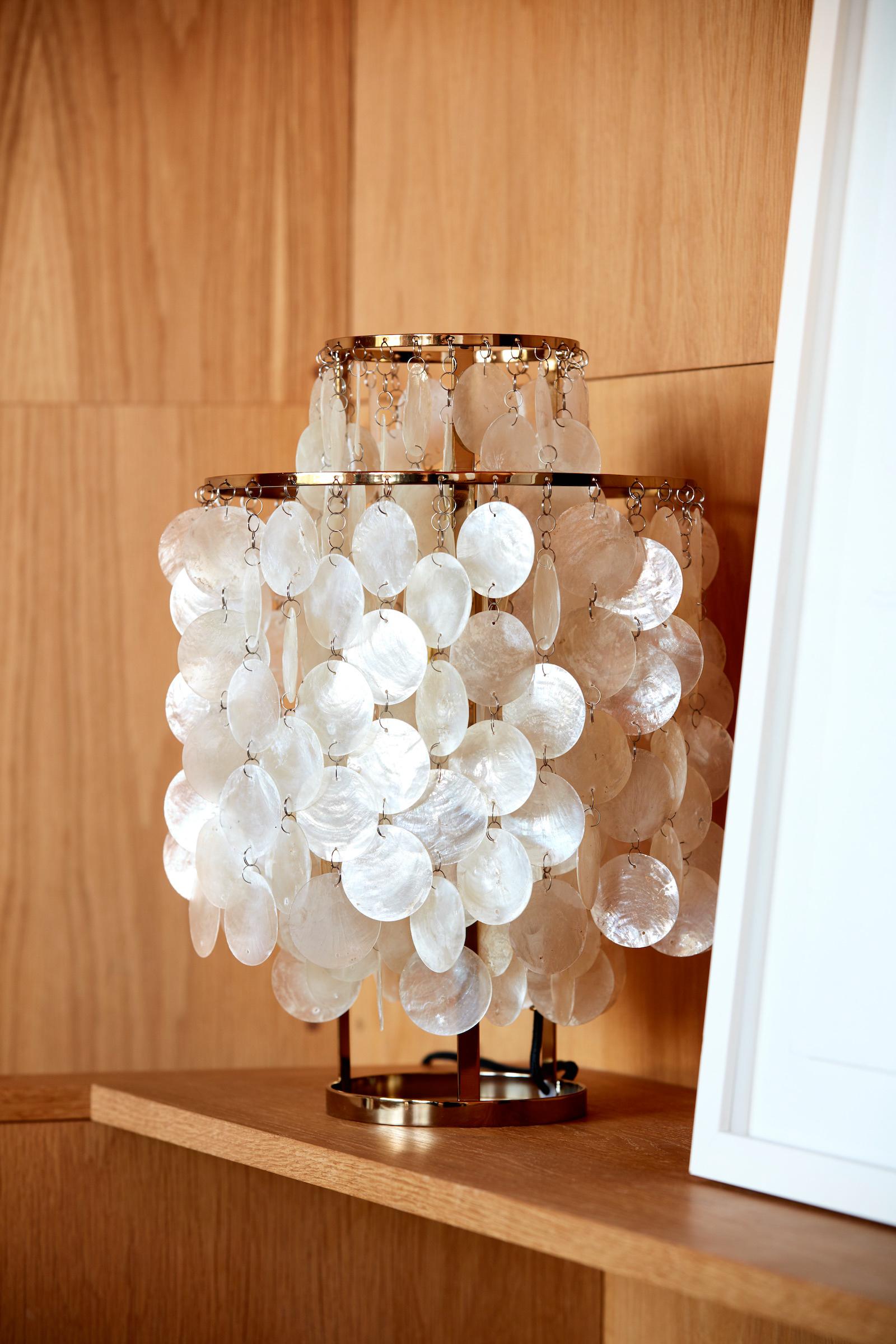 A Seashell table lamp is a coastal-inspired favorite. These lamps emit a soft glow that creates that classic "beachy" ambiance. The base is usually made of clear glass with various shells, starfish, or charming small trinkets and topped off with a softly-colored shade.
Adding a driftwood base underneath the table lamp will provide a bit of height and make it more visible, creating a unique focal point in the room.
4. Coral Reef Lamp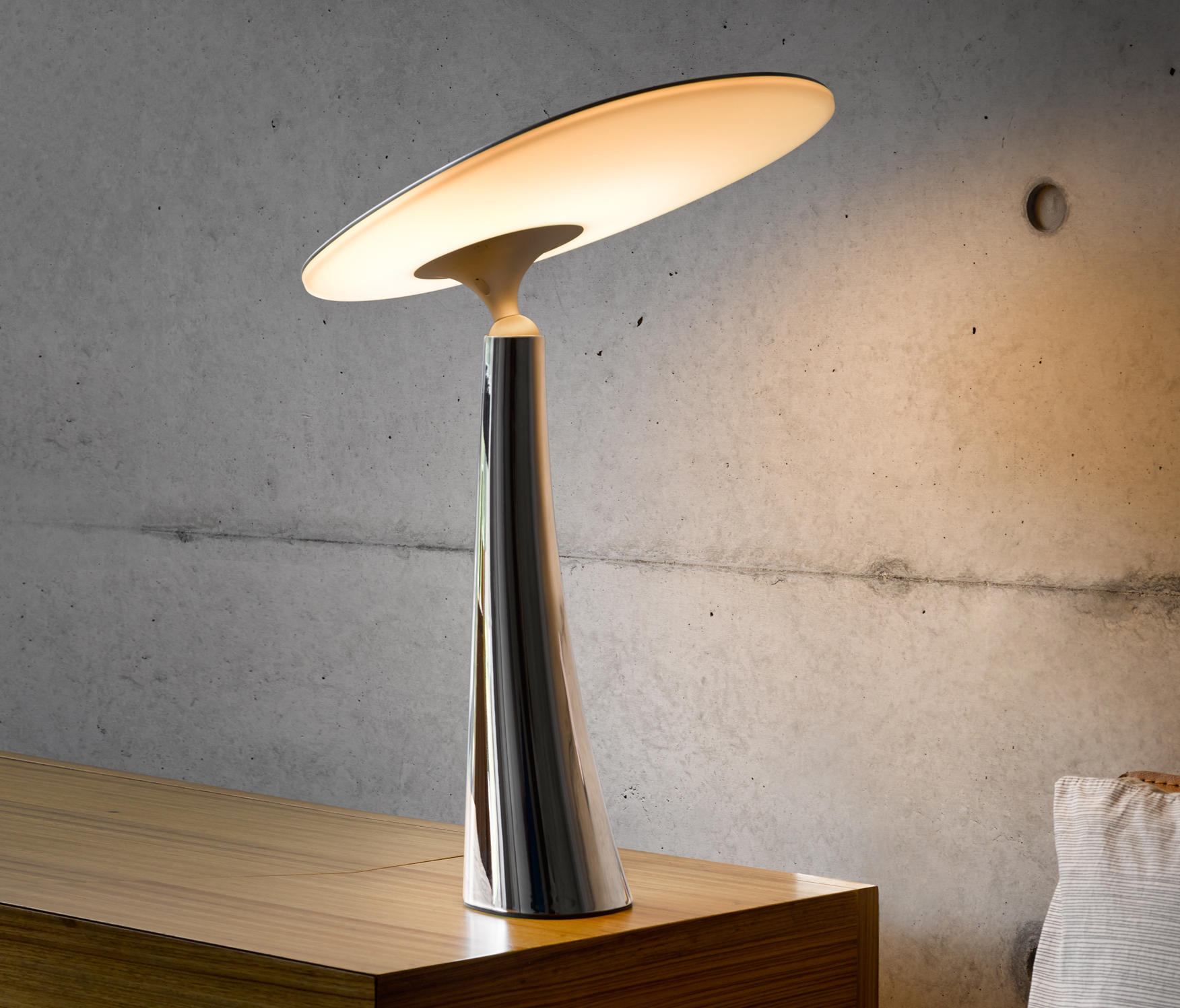 The coral reef lamp is the way to go if you want to evoke the sense of being underwater without getting wet.
This unique lamp design features detailed coral structures that glow in the dark. The base is usually of ceramic or metal and has a textured abstract look, with colors and intricate patterns that look like real coral.
A plain white or blue lamp shade will make the lamp more striking. Because it is such an eye-catching lamp, you won't need many other accessories – just a few nautical-themed accents to pull everything together.
5. Beachy Teal Driftwood Lamp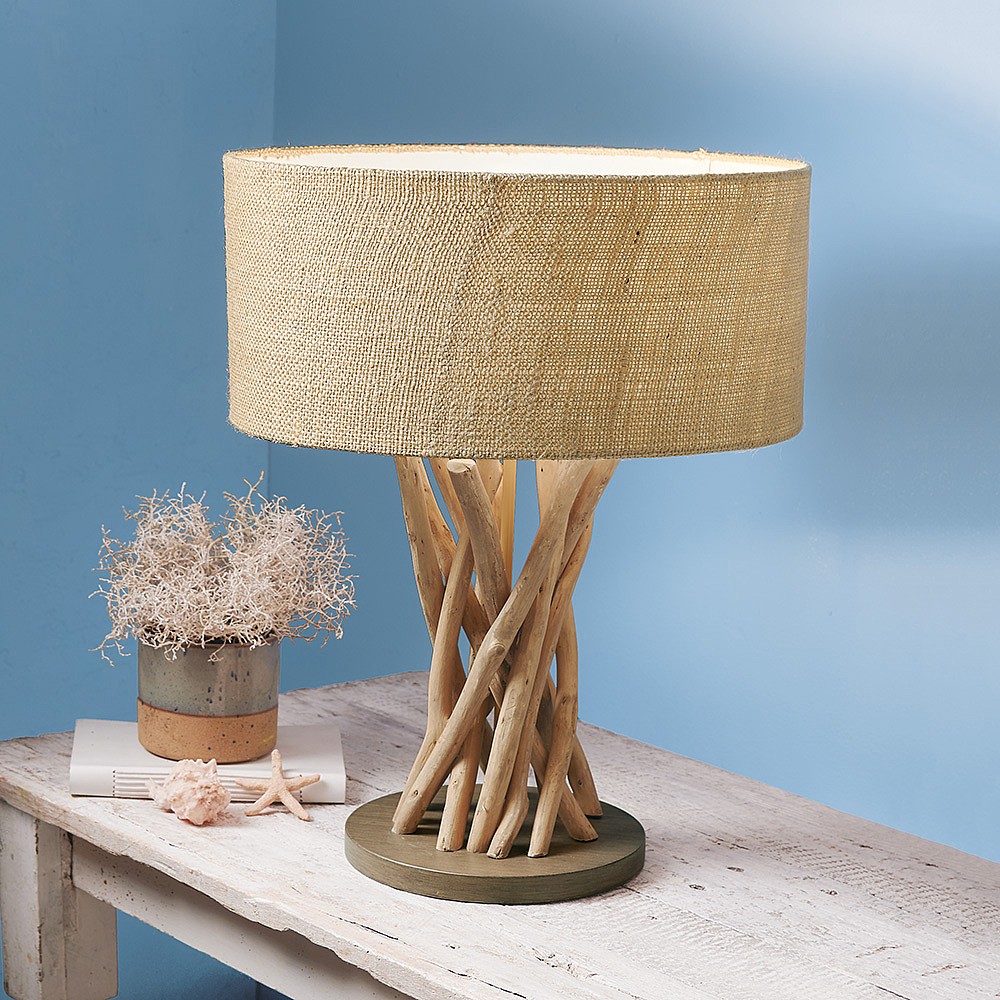 Another excellent lamp design idea is the Beachy Teal Driftwood Lamp. This stylish but straightforward lamp is perfect for adding color to a coastal living room. The base is made of driftwood, and the teal paint adds a fabulous pop of color.
We suggest using a linen lampshade to create an organic and natural feel. You can complement this with bold-colored pillows and other driftwood decorations.
---
Personalizing Coastal Lamp Designs
To make your coastal lamps even more unique, you could consider personalization. You can add seashells, pearls, driftwood, or other items to these coastal lamps to give them a unique look.
This makes the lamps more personalized and creates a more intimate connection to the sea.
If you feel particularly crafty, you could make your coastal lamp. By doing so, you'll add that cherished personal touch that can't be found in any store-bought version.
It's simple, cost-effective, and makes your interior décor truly one-of-a-kind.
---
Beach-inspired Lamps for Different Rooms
Coastal lamps can be used in any room within your home, and below are some ideas to help you get started.
1. Living Room Coastal Lamp Designs
Lamps are essential to any living room, and the Rustic Seaside Lamp or Beachy Teal Driftwood Lamp could be a perfect choice. Pairing the Rustic Seaside Lamp with a jute or rattan rug can quickly create a laid-back atmosphere.
Meanwhile, blue or green throw pillows can help bring the teal color back into the living space, tying the room together.
2. Coastal Lamps for the Bedroom Selecting
Coastal lamps can also provide a serene atmosphere in the bedroom. A seashell table lamp or a coral reef lamp works perfectly to create the desired relaxing atmosphere.
The soft light of these lamps creates a calm tone in the room, and when selecting the right lamp shade and bedding, you will achieve the desired results for the ultimate coastal-themed bedroom.
It's always great to get inspiration from the sea's natural colors to incorporate elements of blues, greens and exposed neutral accents into the room.
Subtle and elegant patterns like stripes, dots, and starfish subtly provide the look and feel of the beach in the room.
3. Coastal Lamps for the Bathroom
Coastal lamps are a fantastic way to add lively personality to a bathroom. Thus, lighting is crucial in a functional room like a bathroom.
With this in mind, you can select nautical-style lamps because of their practicality – these lamps provide the much-needed light for any cutting, grooming, and relaxation sessions in the bath. Adding elements like a blue and white shower curtain or towels not only provides practicality but an addition of personality to the space as well.
---
Wrap It Up
In conclusion, coastal lamps are exceptional decor pieces that can add a relaxed and inviting feel to any home. You can transform any room into a tranquil seaside sanctuary with a suitable lamp.
Whether you love Seashell Table Lamps, Rustic Seaside Lamps or any other Coastal Lamp Design Ideas, there is a lamp for everyone. Don't be afraid to experiment with mixing and matching lamp styles and hues.
After all, the primary goal is to make your home's interior reflect your unique seaside sensibilities.
So what are you waiting for? Unleash your inner sea and choose your perfect coastal lamp!